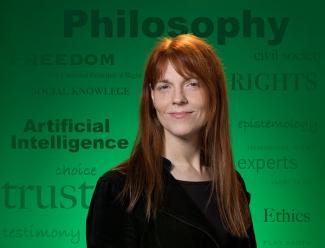 UGA Department of Philosophy Ph. D candidate Ava Thomas Wright has been awarded the Joseph Bertram Gittler Fellowship in support of her dissertation on "The Duty of Veracity." Wright's work has a particularly contemporary poignancy in that it examines the practice of social testimonial statements about certain kinds of expert knowledge via Kant's theory of justice.
In her dissertation, Wright is examining whether experts have a legal "duty of veracity" when reporting their knowledge. "The intuition that drives my dissertation is that in a civil society, authoritative sources such as experts ought to be trustworthy—or at least not lie to us—when reporting knowledge that we ourselves cannot or would have great difficulty learning on our own," explains Wright.  Examples, according to Wright, include lies about whether smoking causes cancer or whether global warming can be attributed to human activity. "My dissertation at its broadest is about how trust in social sources of expert information is one of the foundations of a civil society and what that implies within the limits imposed by the freedom of expression," she continues.
Wright is also simultaneously completing a master's of science in artificial intelligence through the UGA Institute for Artificial Intelligence. Her senior advisor for her Ph D dissertation is Department of Philosophy Associate Professor Melissa Seymour Fahmy, and her dissertation committee members include Piers Stephens and Sarah Wright, also of the Department of Philosophy, and Alex Kaufman, Associate Professor of Political Science in the UGA School of International & Public Affairs. Ava Wright's future plans are to seek an academic position in philosophy.