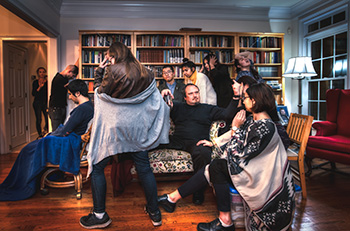 Faculty working in the Department of Philosophy at UGA engage with a wide range of traditions and research in ancient, medieval, modern and contemporary philosophy. They publish in top journals and with leading publishers, and they travel the world to lecture and present their scholarship. Our department is thus able to offer a broad range of leading-edge and research-led courses at both undergraduate and graduate levels, and an equally wide range of research specializations for graduate study.
Our undergraduate program offers a philosophy major that engages and excites students while preparing them for a wide range of careers including business, education, law and medicine. We also offer a philosophy minor that combines well with majors across the sciences and the humanities as well as a minor in Law, Ethics, & Philosophy in partnership with the School of Law. The study of of philosophy offers all undergraduates a chance to think seriously about the essential questions of human life and existence. 
 
Our graduate program offers a PhD degree, as well as a stand-alone MA in philosophy. Both degree programs provide opportunities to work closely with faculty on independent research projects. The department also provides training and practice in teaching philosophy for those graduate students who hold assistantships in the department. You can see here that we do a good job of our placing our graduates in academic positions.
Faculty in our department participate in a number of interdisciplinary programs at the University of Georgia, as well as pursuing other interdisciplinary interests in their research and teaching.
We work closely with the Institute for Artificial Intelligence at the University of Georgia which was co-founded by Donald Nute, now a retired Professor Emeritus in our department.
The Environmental Ethics Certificate Program (EECP) numbers among its co-founders two former members of our department—Frederick Ferré and John Granrose.
We have a close relationship with the Institute for Women's Studies which offers degree programs and a graduate certificate.
We also offer a minor in Law, Ethics, & Philosophy in partnership with the School of Law. 
The department is also home to the interdisciplinary journal Ethics and the Environment, founded by the late Victoria Davion, professor and longtime head of the department, and currently edited by faculty member Piers Stephens.
There's a lot going on in the Department, which sits literally in the center of campus. With one of the most active speaker series in the University, we sponsor a range of interdisciplinary talks and activities with other departments, and regularly host workshops, conferences and social events. Come see what's going on here!