Welcome to our Undergraduate Program
Philosophy classes are interactive and students are encouraged to express their opinions and offer original points of view. Philosophy classes are inspiring and intellectual experiences offering unique opportunities to explore knowledge from diverse angles.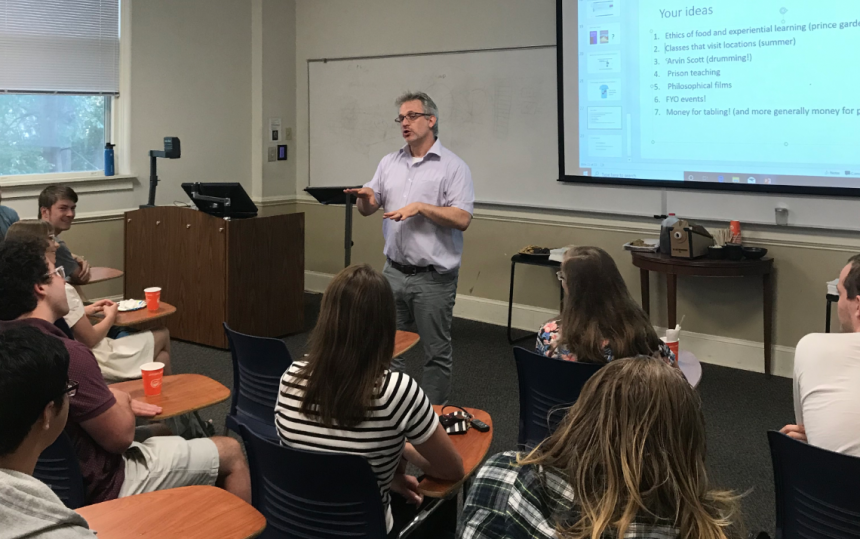 Philosophy addresses the most fundamental questions of life and being—the nature of reality, free will, the foundations of our ethical beliefs, knowledge, politics, beauty, etc. These are issues that all humans are interested in and the study of them is both intellectually stimulating and rewarding in and of itself..
Program Information and Resources
Major and Minor Degrees
Detailed information about undergraduate degrees.
Consider philosophy as a second major. As a second major, philosophy can add competence in logic, critical analysis, and effective writing to the specialized knowledge offered in your other major and appreciably increase your chances in the job market.
In consultation with UGA law professors, the Department of Philosophy has put together a list of upper division classes from which a pre-law student may wish to choose.
Minor in Law, Ethics, & Philosopy
A partnership between the School of Law and the Department of Philosophy, this minor is available to undergraduate students of any major. 
The Philosophy Undergraduate Student Association welcomes both beginning and experienced students. Undergraduate students meet weekly for casual socializing & discussion of a variety of philosophical topics.
Motivated students can concurrently earn both a B.A. and a Master's Degree in Philosophy through UGA's Double Dawgs program. 
Undergraduate Courses & Course Schedules
See all course descriptions and up to date course schedules. For general information about enrollment and schedules, contact Nancy Hines at nhines@uga.edu
Syllabi
Access syllabi for current and past Philosophy courses.
Advisement
Contacts for Undergraduate advisement
Student Handbook
The requirements that must be met by any student majoring or minoring in philosophy are detailed in the Undergraduate Student Handbook. Philosophy majors and minors are required to seek guidance from a Philosophy Department undergraduate advisor when choosing courses and preparing a portfolio. 
The Philosophy Ambassadors are undergraduate students with a passion for knowledge, who volunteer in promoting the Philosophy major across campus. 
Scholarships
The Department of Philosophy offers multiple annual scholarships and awards for undergraduate students. Award amounts and application details vary. Deadlines are in early April.
Interdisciplinary Programs
Several unique opportunities for interdisciplinary study that are often of interest to students in philosophy are available. These are Artificial Intelligence, Environmental Ethics, Women's Studies, and an undergraduate minor in Law, Ethics, & Philosophy.
Listserv
Subscribe or unsubscribe to the PHILANNOUNCE list
Careers
Several career academic, private, and public pathway resources