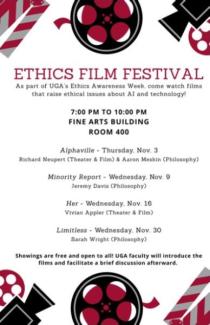 Richard Neupert & Aaron Meskin
Theater & Film
UGA
Fine Arts Building, Room 400
The Ethics Film Fest is a series of four film screenings taking place November 3-30  in conjunction with UGA's Ethics Awareness Week. All are invited to view films that raise ethical issues about Artificial Intelligence and technology. Select UGA faculty will introduce the films and facilitate a brief discussion afterwards. All screenings take place in room 400 of the Fine Arts Building and are free and open to the public. The schedule includes:
Thursday, November 3: Alphaville 
introduced by Richard Neupert (Theatre & Film) & Aaron Meskin (Philosophy)
In Alphaville (1965), viewers are launched into a world where every word and thought is controlled by the Alpha 60 supercomputer, and hard-boiled special agent Lemmy Caution (Eddie Constantine) arrives in his Ford Galaxie to rescue a mysterious woman (Anna Karina) and counter the computer's logic with poetry and love. Jean-Luc Godard's Art House Science Fiction film Alphaville won the Golden Bear at the Berlin International Film Festival. The introduction and discussion of this film will be presented by Dr. Richard Neupert and Dr. Aaron Meskin on November 3rd.
introduced by Jeremy Davis (Philosophy)
introduced by Vivian Appler (Theatre & Film)
introduced by Sarah Wright (Philosophy)