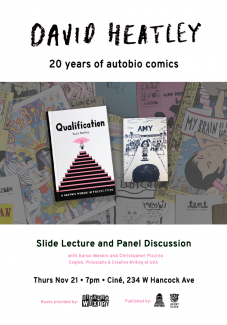 Noted cartoonist David Heatley (MY BRAIN IS HANGING UPSIDE DOWN, DEADPAN) will be joined in conversation with University of Georgia professors Aaron Meskin (Philosophy) and Christopher Pizzino (Creative Writing) on Thursday, November 21 at 7pm at Cine (234 West Hancock Ave. in Downtown Athens). The discussion will focus on Heatley's newest graphic novel, QUALIFICATION.
David Heatley's comics and drawings have appeared on the cover of The New Yorker, in every section of The New York Times, in New York Magazine, Granta, McSweeney's, and more. QUALIFICATION, his second graphic memoir, is impressively honest and darkly funny, a deep-dive into the author's journey through a myriad of 12-step programs, the characters he meets along the way, and the various meanings of family and love. As Kirkus says about the book, "Heatley powerfully demonstrates that when lives are messiest, art remains cathartic, even redemptive."
Copies of QUALIFICTION will be available for sale in the lobby following the event, and David will be signing. This event is free and open to the public.