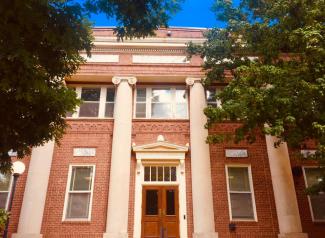 Yuri Balashov became increasingly involved in the activities of the American Translators Association and the Association for Machine Translation in the Americas, becoming a member of both, attending their conferences, and discovering them to be very different communities. These activities are in continuation of his ongoing project on human and machine translation.
As the current President of the International Plato Society, Distinguished Research Professor and Josiah Meigs Teaching Professor, Edward Halper is spending more time than he would like making arrangements for the next IPS Symposium on Plato's Sophist, to be held at UGA in July 2022.
Additionally, Halper is presenting on "The Results of Dialectic" at conference on Aristotle's Dialectic and the Sciences held at Université du Québec à Montréal, Montreal, Canada August 27-28. He will be presenting additional talks later this Fall including "Dunamis and Agency in the Sophist" at a Workshop on Platonic Power at Universidade Federal do Rio de Janeiro in Brazil in October, and "The Dialectic of the Ladder of Loves" at the  XIIIth Symposium Platonicum Pragense on Plato's Phaedrus, in Prague, Czech Republic in November. 
Professor and department head, Aaron Meskin co-edited a special issue of Crítica, Revista Hispanoamericana de Filosofía on "Food, Art and Philosophy." He also edited the Peter Kivy Prize Symposium and reviewed C. Thi Nguyen's new book, Games: Agency as Art for The Journal of Aesthetics and Art Criticism. 
In April, Meskin was the invited speaker at the first annual Clemson-University of South Carolina Collaborative Philosophy Major Lecture where he gave a talk on "Toward a Third Place Aesthetics: The Experiences of Cafes, Coffee Shops, Bars, & Pubs." He was recently elected to serve on the Committee on International Cooperation of the American Philosophical Association.
Distinguished Research Professor, Richard Dien Winfield's 1988 book, The Just Economy is being reissued in hardback, paperback, and ebook this Fall as part of the Routledge Revivals Series.