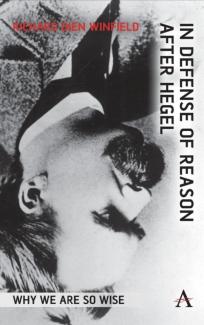 Distinguished Research Professor, Richard Winfield published his twenty-third single-authored book, In Defense of Reason after Hegel: Why We Are So Wise (Anthem 2022). This volume collects many of his most recent essays, including three not previously published. The book addresses fundamental problems concerning how nature should be conceived, how mind and language operate in ways that empower, rather than relativize reason, how fine art  can retain its importance in the modern world, how the institutions of right should be conceived, how the US Constitution fails to uphold all the freedoms in which right consists, and how it is possible for philosophy to provide a practical guide for the political engagements that we should pursue. "The essays are particularly important given the precarious position of our democracy and our household and social rights, and the insidious disempowerment of reason that dominates professional philosophy," explains Winfield of the particular poignancy of the subject matter in these times. 
Sarah Wright has been promoted to Full Professor, effective as of the 2022-'23 academic year. Congratulations, Dr. Wright!
Professor and department head Aaron Meskin, recently published "Art Clusters: The Importance of Similarities in Aesthetic Research and Education"in the Journal of Aesthetic Education. He presented papers at the Southern Aesthetics Workshop in Auburn, AL, the Rocky Mountain Division of the American Society for Aesthetics in Santa Fe, NM, and a talk entitled "Middlebrow Aesthetics: An Explanation and Defense," at the American Society for Aesthetics Annual Meeting in Montreal. He gave an invited keynote talk at a conference on poetry and research sponsored by the Oxford Centre for Life Writing. Meskin recently became the President of the Georgia Philosophical Society.
Associate professor Piers Stephens has recently presented at conferences including the online International Association for Environmental Philosophy conference in October 2021, and the International Society for Environmental Ethics panel, held at the American Philosophical Association conference in Baltimore in January 2022. He also published an editorial article, "Pragmatism, Pluralism, Empiricism and Relational Values," in the December 2021 issue ofEnvironmental Values and contributed a chapter, "James, British Empiricism, and the Legacy of Utilitarianism" to The Jamesian Mind, edited by Sarin Marchetti (Routledge 2022).
From November 1st 2021 to January 31st  2022, Magdalena Holy-Luczaj of the University of Information Technology and Management at Rzeszow, Poland, was a Visiting Fulbright Scholar at the Philosophy Department. A specialist in environmental philosophy, Heidegger, and the philosophy of technology, she was hosted by and working with Piers Stephens.
Distinguished Research Professor & Josiah Meigs Distinguished Teaching Professor Edward Halper presents at multiple conferences this semester. In mid-March, he speaks on "The Metaphysics of Dialectic" at the annual meeting of the Metaphysical Society of America in Milwaukee, Wisconsin. In February he presented virtually for the Philosophy Department Colloquium of the Universidad Nacional Autónoma de México on "Metaphysics M." As the current President of the International Plato Society, Halper is also busy organizing the next Symposium Platonicum—the first time the International Plato Society has met in the United States. Entirely devoted to Plato's Sophist, it will occur at UGA July 18-22, 2022, including 10 invited speakers and 150 abstracts submitted for review.
Assistant Professor Rohan Sikri published an essay titled "The Skillful Wanderer: On the Risks and Rewards of Travel in Plato and Zhuangzi" in the collection Skill in Ancient Ethics : The Legacy of China, Greece and Rome, edited by Tom Angier and Lisa Raphals (Bloomsbury 2021). He received invitations to speak at the Center for Hellenic Studies at Harvard University as well as the Ancient Philosophy Society, contributing to its very first panel on comparative philosophy. A recipient of the Franklin College Innovation in the Multicultural Curriculum Grant, Rohan designed the department's inaugural course in the philosophy of multiculturalism, which he is teaching in Spring semester of 2022.  Dr. Sikri has also been chosen to receive a First-Year Odyssey Seminar Program Teaching Award. This award recognizes outstanding FYO instructors for their efforts to connect with our first-year students, incorporate the FYO goals into their course, and relate it to their research. 
Professor Yuri Balashov received a M.G. Michael Award from the Franklin College to work on the project entitled "Subword Meaning: A Case Study in Neural Machine Translation" next year. As part of his continuing engagement with human and machine translation communities, he published this hands-on review.
In December 2021, the Department held a hybrid format one-day Workshop on Philosophies of Nature, Technology, and Artificial Intelligence, organized by Piers Stephens, assisted by graduate students Justin Simpson and Kat O'Brien. Speakers included Michael Lindquist (UGA philosophy graduate student), Magdalena Holy-Luczaj (University of Information Technology and Management at Rzeszow, Poland, and Visiting Fulbright Scholar at UGA), Leslie Paul Thiele (University of Florida), Josh Gellers (University of North Florida), Patrick Hubbard (University of South Carolina) and Amber Ross (University of Florida).