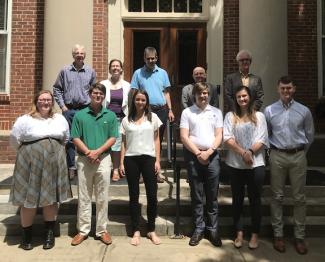 PHILOSOPHY DEPARTMENT AWARD WINNERS 2019
On Wednesday, May 1, the Department of Philosophy recognized four undergraduate students with scholarship awards. ​​​​​​Students pictured in front row, left to right: Anne Still, Andrew Clarida, Abby Clement, Clark Veazey, Abby Temple, Wes Bowden. Faculty pictured in back row: Yuri Balashov, Sarah Wright, Athanasios Samaras, Piers Stephens, Richard Winfield. Congratulations to these hard-working students!
Anne Still, Frank Harrison III Scholarship
Anne Still is a third-year student from Cumming, GA double majoring in philosophy and entertainment and media studies. During her time at UGA, she has focused her philosophical studies on ancient western political and ethical philosophy. She plans to pursue a career in screenwriting and television development after graduation. 
Wesley Bowden, Daniel Hart Memorial Scholarship
Wesley Bowden is a senior from Athens, GA. He majored in religion and minored in philosophy. After graduating with his religion degree this spring he will either attend Columbia Theological Seminary in Atlanta to study ethics, or he will stay at UGA one more year to complete the Philosophy major. 
Abby Clement, Richard H. Severens Scholarship
Abby Clement is from Atlanta, GA. She is in her third year at UGA but plans to graduate this summer as a philosophy and cognitive science major with a certificate in computing. She is also a DoubleDawgs student for cognitive science and artificial intelligence and hopes to stay on campus a fourth year to complete a Master's in artificial intelligence if she is accepted into the graduate program. 
Riley Findley, Horace B. Russell Prize
Riley Findley is from Forsyth County, north of Atlanta, GA. She is a third-year Philosophy major with the intention to graduate this December. She plans on moving to a city with a Byzantine Catholic church, with hopes to get a job in programming and hopefully work on obtaining an MA in Philosophy part-time.